Kaaimans Railway Bridge Named Heritage Landmark
Posted on Wed October 9, 2019.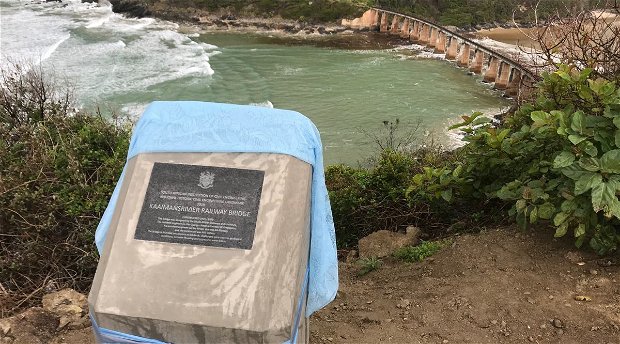 Kaaimans River Railway Bridge named 2019's National Historic Civil Engineering Landmark of the Year

The South African Institution of Civil Engineers (SAICE), together with the Executive Mayor of the George Municipality, Melvin Naik, unveiled at plaque at Dolphin's Point overlooking the bridge, on Wednesday, 9 October, naming the Kaaimansrivier Railway Bridge "2019 National Historic Civil Engineering Landmark of the Year." 
SAICE's History & Heritage panel evaluates historic civil engineering infrastructure annually to decide which project should be honoured.  In so doing the civil engineering heritage of our country is recognised, and the role that infrastructure plays in our day-to-day lives is highlighted. 
The SAICE Heritage panel undertakes research into the circumstances regarding the construction of the various heritage infrastructure nominees to ascertain whether they are worthy of the recognition. Previous awards have gone to a variety of notable projects like the Van Staden's Weir and Dam( built in 1877) near Port Elizabeth, or last year's recipient, Bloemfontein's Bloemspruit Canal (built in the 19th century, and still in use today).
The Kaaiman's railway bridge has been widely photographed and its image is well-known internationally, with railway and heritage tourists continually visiting it, both now and when it was part of the Outeniqua Choe Tjoe route. 
The bridge is also known for the beautiful beach and river that it crosses, and which draw holiday makers to the region.
The 2007 floods put the Outeniqua Choe Tjoe off its rails, but we remain optimistic that some day soon operations will resume on this historic route, and that the historic steam train will transport visitors over the Kaaimans Bridge once again. 
Construction
The bridge was constructed between 1925 and 1928.  It was designed by the South African Railways and Harbours (SAR&H), now Transnet.  The resident engineer on the George – Knysna line was N.K. Prette-John;  his assistant engineer on the bridge site was R.A. Glenday, and the contractor was M.D. Vallero.
The bridge is founded on caissons on bedrock. Challenges overcome included adverse geological conditions, extreme flooding and aggressive wave action. 
A number of photographs depicting the bridge and its construction can be seen at the Transnet Railway Museum in George. 
SAICE
SAICE were represented at the plaque ceremony by its current president, Mr. Brian Downie, and Heritage Panel chairperson Prof. Chris Roth. A number of heritage tour delegates and representatives of the Southern Cape branch of SAICE were also present